This electronic message, including, where appropriate, the files attached to it, may contain confidential and / or privileged information and are sent to the attention, only and exclusively, of the person and / or entity to whom It is aimed.
The copying, review, use, disclosure and / or distribution of such confidential information, without the written authorization of Landia S. R. L. is strictly prohibited.
If you are not the recipient to whom this message is addressed, we thank you to communicate it to the sender, responding to the email address of the message, and to proceed to delete the original message, including its files, as well as any copy of it.
By receiving this message, we understand that you acknowledge and accept that, in the event of non-compliance by you and / or your representatives, under the aforementioned terms, Landia SRL will have the right to claim compensation for the damages and losses arising from such behavior.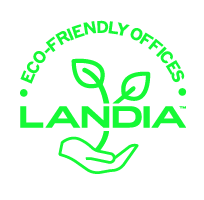 At LANDIA we are committed to the care of our planet.
We plant trees and take care of our garden. Our human relationships grow like trees and in natural harmony.
At LANDIA we recycle and reduce our waste consumption every day.
Our offices are Eco-friendly. We have reduced energy and water consumption. Our environments are green.